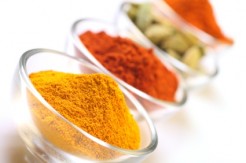 Beauty may only be skin deep, but don't underestimate the importance of that top layer in maintaining beautiful, healthy skin. As your body's largest organ your skin has a tremendous responsibility: it protects you from the environment, helps regulate your internal temperature, and sends you signals if something isn't going quite right inside your body.
In my spice blog and Web site, Spice Sherpa, I often research different spices for qualities that go beyond flavor. People of many cultures believe that spice consumption benefits their health. While these beliefs are largely anecdotal and theoretical, more studies are testing the link between a particular substance and its health benefits (vitamin C as an antioxidant, for example). I was curious if there were any of these substances found in spices that were specific to the skin. My research revealed that there are several spices with skin benefits to help keep your skin healthy, clear, young looking, and firm.

And given that this is a new year, I want to share these healthy skin spices with you. After all, why not do everything you can to look your best…especially when it can taste so good? 
Ancho Chile, Aleppo Chile, Cayenne, and Paprika
These spices are collectively known as the capsicums. The capsicums have characteristically rich red and brown coloring and are a source of vitamins A and C. In fact, 2 teaspoons of cayenne (or 3.52 grams) contain nearly 30 percent of your daily recommended vitamin A. Vitamins A and C are antioxidants, which absorb free radicals known to break down your skin's collagen (collagen is what keeps your skin plump and firm). Your skin's ability to produce collagen begins to decline in your early twenties. Free radicals are produced by ultraviolet (UV) light, smoking, and other pollutants.
Research from 2007 in the American Journal of Clinical Nutrition suggests that vitamin C-rich foods may help prevent wrinkling and age-related dryness.
Turmeric
Turmeric's health claims are many. This bright orange spice contains a substance called curcumin, which studies have shown to inhibit cancer cell growth and encourage cell suicide (which is what we want cancer cells to do). While none of the studies has assessed skin cancer specifically, the trending affect of turmeric is encouraging. You can read more details on the studies here. Turmeric also has anti-inflammatory agents, which can be helpful in reducing the inflammation that goes along with acne. In fact, some cultures use turmeric as an ingredient for homemade topic facial treatments to treat acne.
Sesame Seeds
The omega-3 fatty acids DHA and EPA have many health benefits. A 2009 study in the American Journal of Clinical Nutrition reports that these fatty acids may shield cell walls from free radical damage. EPA has also been shown to preserve collagen.
Fish are the primary source of omega-3 fatty acids but not the sole source. Some plant sources, like sesame seeds, also contain these essential fatty acids. The amount isn't large but every bite helps. Learn more about the sources of essential fatty acids from the McKinley Health Center.
Honorable Mention: Dark Chocolate
I know dark chocolate isn't a spice but it does contain caffeine. One study from the European Journal of Cancer Prevention found that those who drank a daily cup of coffee reduced their risk of developing non-melanoma skin cancer by 10 percent. Another study in the Journal of Investigative Dermatology showed that caffeine helps kill off human cells damaged by UV light.
A quick online search for "caffeine and skin cancer" will reveal a large body of research that points to caffeine as a protective ingredient. There isn't as much caffeine in dark chocolate as a cup of coffee, but I think most people will agree that any excuse to eat more chocolate is welcome.
On that playful note, you can double-duty your edible skin care regime by eating dark chocolate that's infused with skin-beautifying spices. The Red Fire by Vosges from their line of exotic chocolate bars is my personal favorite. It's a blend of Mexican ancho and chipotle chiles and Ceylon cinnamon with dark chocolate.
While these studies are encouraging, it's important to remember that the information provided in this article is not intended to diagnose, treat, or cure your health problem or disease. These spices are a tasty way to enhance a personal regimen already focused on good skin health. If you have any questions about any skin condition, you should talk to your dermatologist.
Karen Marley