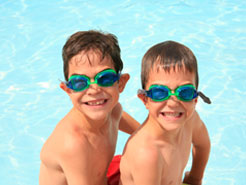 On this Twelfth Day of Dermatology, we here at Skinsight would like to wish everyone happy and safe holidays. In the spirit of the season, we would like to recognize some of the humanitarian efforts that many dermatologists participate in throughout the year.
Dermatologists make a difference in the lives of children and adults with skin, hair, and nail disorders—many of which are life threatening and impact their quality of life. Not only do many dermatologists donate their time and financial resources to help others, but they strive to educate others in skin health as well.3
The American Academy of Dermatology has developed Camp Discovery, a week-long camp for children and teens with serious skin conditions. Here many of the children have an opportunity to enhance their self-confidence, learn from other children with similar conditions, and enjoy camp activities such as fishing, boating, swimming, and arts and crafts.

Dermatologists also provide free skin cancer screenings and travel to Third World countries to educate health care workers about skin conditions and treatments. To learn more about dermatologists' humanitarian efforts, visit here.

¹American Academy of Dermatology Web site. https://www.aad.org/. Accessed December 11, 2009.