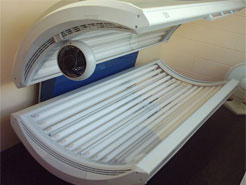 On the second day of Christmas, try not to give the gift of artificial sun. Instead, give your loved one a bronzer, which can be applied over sunscreen, for a sun-kissed look without the skin damage!
On average, more than 1 million people tan in tanning salons each day in the United States, 70% of whom are white girls and women aged 16 to 29. Ultraviolet (UV) radiation from the sun and from artificial sources such as tanning beds and sun lamps has been declared a known carcinogen (cancer-causing substance) by both the United States Department of Health and Human Services and the World Health Organization's International Agency for Research on Cancer panel. In fact, a review of 7 studies demonstrated that, in persons aged 35 and younger who have been exposed to UV radiation from indoor tanning beds, the risk of melanoma is increased by 75%.
The FDA is considering modifying the labels on indoor tanning beds, based on information from the
Tanning Accountability and Notification (TAN) Act, to make the warnings clearer for tanning bed users. Furthermore, the American Academy of Dermatology Association (AADA) supports banning the production and sale of indoor tanning equipment for nonmedical purposes and supports restrictions for indoor tanning facilities.¹
¹American Academy of Dermatology Web site. https://www.aad.org. Accessed December 11, 2009.