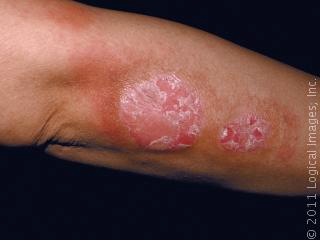 A balanced diet is crucial for overall health. But do certain foods also have specific benefits for managing psoriasis? Many people with the disease believe so. However, research has yielded mixed results. Here's what's known about diet and psoriasis—and what's not.
~CNN Medical Reviewer: Brian McDonough, MD
 Continue story here: Can you eat to beat psoriasis?
What is psoriasis?
Psoriasis is a noncontagious, lifelong skin condition that affects about 2–3% of the population of the United States. People with psoriasis have thickened, red, and often scaly patches on their skin.
Who is typically affected?
Psoriasis can develop at any age, but it is usually diagnosed in those aged between 15 and 25 years. Thirty percent of people with psoriasis have a family member with psoriasis. The condition affects men and women fairly equally, with women tending to show signs at a younger age than men.
Self-care guidelines:
Because psoriasis is a lifelong condition for which there is currently no cure, the goal of therapy is to decrease the number of lesions and improve symptoms, such as itching and irritation.
Bathe daily to help remove scale and moisten the skin. Avoid harsh soaps; soap substitutes are milder for your skin.
Apply moisturizers to all scaly psoriasis patches after any water exposure or bathing. Heavier oil-based moisturizers help to retain water in the skin better than water-based moisturizers.
Apply hydrocortisone cream (0.5 or 1%), available over the counter, to help reduce itch and redness.
Use products with salicylic acid (shampoos, cleansers, and ointments) to help soften and remove heavy scale.
Small doses of natural sunlight may be helpful, such as 10–15 minutes 2 or 3 times a week. Avoid too much sun, however, and protect your healthy skin from sun exposure.
There is also an increased risk of nonmelanoma skin cancer and lymphoma in people with psoriasis. For this reason, monthly skin self-exams and regular visits to your doctor are important.
Treatments your provider may prescribe:
There are many prescription-strength treatments that are helpful at controlling psoriasis. For mild or moderate cases, medicines applied directly to the skin (topical treatments) may be prescribed:
The mainstay of therapy for psoriasis is topical steroids, either in creams or ointment form. Higher-potency topical steroids are used for the body or scalp, and lower-potency topical steroids are best for the face and skinfold areas. Steroid solutions or liquids can be used on the scalp. Use should be limited to 1–4 weeks at a time because long-term use of steroids can lead to stretch marks (striae) and thinning of the skin.
Calcipotriene (Dovonex®) is a vitamin D derivative cream that works as well as steroids, and it is even more effective when combined with topical steroids.
Tazarotene (Tazorac®) is a vitamin A-based cream that may be prescribed. Women of childbearing age should be counseled to avoid pregnancy while using tazarotene because this treatment may cause birth defects.
Topical immunosuppressants such as tacrolimus (Prograf®) and pimecrolimus (Elidel®) may also be used, but they can cause skin burning and itching and are expensive. These treatments may possibly increase your risk for skin cancer and lymphoma.
Coal tar-based therapies and anthralin creams are sometimes used, but they are used less frequently than other treatments because they have an odor, cause skin irritation, and can stain clothing and because neither is any more effective than calcipotriene.
For more treatment information: Click Here
Links: Skinsight Resource: Psoriasis • MedlinePlus: Psoriasis • National Psoriasis Foundation