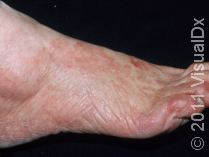 In August 2010, 33 Chilean miners were trapped underground when their mine collapsed.  The hot and humid conditions the miners were subjected to live in during their time underground caused the miners to suffer from various skin conditions.  One common problem the miners faced was foot fungus.  After their rescue doctors attempted treating the foot fungus with antifungal creams to no avail. 
When the antibacterial and skin care technology company Cupron, Inc. learned of the Chilean miners plight they donated specially made socks which had been impregnated with copper oxide, a known anti-bacterial and anti-fungal agent.
Most of the miners reported their skin conditions to have completely cleared within a week of wearing the copper socks.  Researchers believe the socks could benefit workers who are exposed repeatedly to extreme conditions and most commonly develop athelete's foot.
Read the full story here: MSNBC