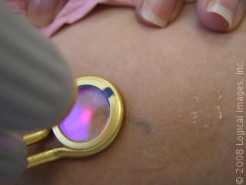 It happens on a regular basis. I walk into the room and I see a miserable-looking patient who went somewhere they shouldn't have for a laser treatment and paid the price. The person who wanted to look better now has burns, scars, and deep embarrassment. The lesson here is that an ounce of prevention is worth a pound of cure.

Patients who want to look younger have a confusing array of options nowadays, not the least of which is where to go for their cosmetic procedures. It's wise to be careful where you go. I have heard of laser surgery done at malls, in vans, at parties, or even nail salons. As the cosmetic world has become more commercialized, franchises offering laser treatments have sprung up. A quick Web search often reveals what patients eventually find out – buyer beware! A few do a great job, but most focus more on making money than delivering safe, high-quality, personalized care. If you wouldn't get your dental work done at a party, why would you get a laser treatment there?

Originally a field limited mainly to dermatologists and some plastic surgeons, many other physicians (and even nonphysicians) are now touting their cosmetic services. The reasons are numerous and include the lack of regulation, diminishing insurance reimbursements, and exploding demand for cosmetic procedures. I'll explore what an educated patient should evaluate prior to having a cosmetic laser procedure.

Laser Surgery Considerations
The very first consideration is the education and experience of the physician. If you cannot easily find the physician's credentials, be careful. Dermatologists and plastic surgeons receive cosmetic training during their accredited residency programs. Some even pursue additional years of fellowship training to become experts in the field. With enough training, other types of physicians can become competent in cosmetic procedures, but there is no standard training or accreditation for cosmetic surgery. Extensive experience and passion for the field can sometimes make up for lack of training – just don't be one of the first patients!

The second consideration is who is going to perform the treatment. In most states, a physician can delegate a cosmetic procedure to an assistant of their choosing. Ideally, the assistant would have extensive training and experience and have an expert physician physically present in the office and immediately available. Unfortunately, a common scenario is that a poorly trained novice technician performs the procedure alone, with a figurehead medical director never to be seen. In that setting, the patient is much more likely to have a bad result or ineffective treatment.

The initial consultation is important. Patients should be thoroughly evaluated, understand the recommended options, and determine if the equipment used by the practice is appropriate for their skin type and condition to be treated. Don't be afraid to ask questions!

Be aware of a common setting for problems – when one machine is used to treat everything regardless of skin type or condition. An example is the use of intense pulsed light (IPL) for hair removal in dark skin, leading to a fair risk of causing blisters, discoloration, and scarring. We own 8 different laser technologies and match the patient with the best technology. If a patient is better treated with a technology not available to me, I'll send the patient elsewhere. 

Lastly, think twice if it feels like you are given a sales pitch and sold on more than you bargained for. What you need is an honest appraisal of appropriate and effective treatment and a simple plan of action. Many patients are trapped into long-term "packages" with offers that sound too good to be true – and usually are. A typical scenario, for example, is a person who "wins" a free laser hair removal session only to be pressured to buy 10 more when he or she goes to claim the prize. That may be expected, but the typical number of sessions required is usually 4 to 8 in our practice.

Ultimately, to get the best result, patients have to do a little legwork to make sure they get what they want. As a dermatologist who specializes in laser treatment, I see many patients who ask me to fix side effects from treatment they had done elsewhere, and the majority felt something was amiss but ignored the warning signs. Even in the best of hands, current technology can cause side effects or fail, but the risks are far more likely in the worst of hands. An educated patient can ask the right questions, evaluate the procedure offered, and walk away if something doesn't seem right. Walking away is tough, but being that miserable patient in my office is even tougher.