Insights from Michael Cardis
VisualDx is a clinical decision support tool developed by the company that publishes Skinsight.com
VisualDx is used by physicians, students, and medical staff around the world.
-----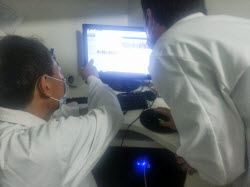 In July 2013, I traveled to China to participate in a two week dermatology experience at Xuanwu Hospital, established in 1958. This institution is affiliated with Capital Medical University, which was founded in 1960 and ranks among the best medical universities in China.  The hospital, situated in the heart of Beijing, contains about 1000 inpatient beds and serves about 4000 outpatients on a daily basis. I was assigned by the chair of the department of dermatology and venereal disease to work with Dr. Chen Hui, one of the English speaking attending physicians.  The goals of my trip were as follows: to improve my diagnostic skills, to appreciate differences between dermatology in the US and China, and to find a way to give something back in exchange for the privilege of this enriching experience. 
The dermatology department is attached to the hospital as an outpatient facility. There are six attending physicians, each with their own "exam room," where patients are ushered in from 8:00am to 4:30pm five days a week on a first come first serve basis.  Each physician will see about 60-80 patients per day, thus, there was no shortage of opportunities for me to work on my diagnostic skills. The patient encounters took place in Chinese, so during the encounter I would work on my descriptive skills.  After the patient left the exam room the Dr. Chen would allay to me the history and symptoms.  Depending on the case, I would come up with a differential diagnosis with the aid of VisualDx.  I would then use the image library for assistance deciding on the best diagnosis.  This was an excellent way to bridge the gap of the language barrier and to compare treatment modalities as well.  VisualDx is a great tool for individuals early on in their dermatology education as it provides an efficient way to develop descriptive skills and build one's dermatologic vocabulary.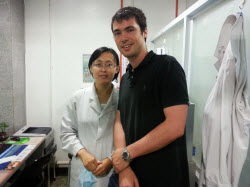 The numerous patient interactions elucidated differences between dermatology in China compared to America.  In reference to western medicine, their therapeutics actually aligned quite well. One of the biggest discrepancies I noticed was their lack of the use of the shingles vaccine for the elderly, despite the fact that I saw many cases during my limited stay at the institution. When I brought up the subject, the physician was completely unaware of this practice. I showed her the evidence behind the vaccine and she was intrigued, saying she would look into it further. Other than that, blatant differences from western therapeutics were minimal.  The most profound differences became evident in their use of Traditional Chinese Medicine (TCM), as well as the difference in disease spectrum found in the Chinese population. 
TCM, which has been around for more than 5000 years, is generally a combination of acupuncture, herbal medicine and dietary advice.  During my experience, I was mostly exposed to the latter two.  For example, many patients were prescribed high doses of various vitamins and instructed to drink lots of water and to avoid spicy foods. The principle behind this dietary recommendation is that it will diminish heat inside the body and decrease the redness and itching manifested on the skin.  They believe this, along with certain herbal formulations, will quench the so called "sheng huo," which translates as the "growing fire" inside one's body which is responsible for the symptoms. Another example of a traditional remedy is that when treating alopecia areata, not only will steroids be utilized, but the patient will be told to put fresh ginger directly on the lesion to stimulate hair growth.  Patients were also prescribed various tinctures or patches composed of various herbs.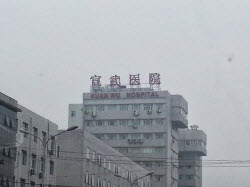 The other notable difference I would like to briefly comment on is the disease spectrum.  For example, during my entire stay in China I did not see any cases of Basal Cell Carcinoma or Squamous Cell carcinoma and I saw very few Actinic Keratoses and Seborrheic Keratoses.  However, I saw my first cases of both secondary syphilis and erythema nodosum.  It seems as though the Chinese population does a better job protecting themselves from the sun than we do here in the US.  It is not uncommon to see Asian women carrying an umbrella with them on a hot, sunny day.  Furthermore, when working outside on the farm they wear large, straw hats. These practices, along with the fact that they have a more sun-protective skin type, likely both contribute to the decreased incidence of skin cancer in China.  Other, very common diseases I saw were onychomycosis, condyloma accuminata, vitiligo, psoriasis, various fungal infections and other common forms of dermatitis and allergic reactions.
I found a couple ways to give back to the dermatology department of Xuanwu hospital by giving a brief presentation of VisualDx to attendings and residents and by donating several dermatology texts to the department.  They were fascinated with VisualDx, as they had not seen anything like it before.  One aspect they were very attracted to was that it seemed to be a great way to facilitate learning English-related dermatology language, especially for the residents.  I know firsthand how difficult it can be to learn the dermatologic vocabulary, let alone having to learn it in two languages.  The description inputs, as well as the compact and yet comprehensive differential diagnosis builder are great ways to reinforce the linguistics.  Though my time in China was limited, the experience made a lasting impression on me.  It was great to work with people from a different culture and perspective.  I feel this really enhanced everyone's learning. 
Michael Cardis
NEOMED
Class 2014