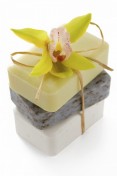 There are many different brands of soaps and cleansers on the market today designed for many purposes, from fighting acne-causing bacteria to providing moisture. With so many different types of soap available today, it is hard to imagine how we ever survived with plain old-fashioned soap that was not designed for a specific skin type or purpose. As with any innovation, soap has gone through many changes since its inception thousands of years ago to become as varied and beneficial as it is today.

The soap-making craft started in Europe during the 7th century. Early soaps were made from vegetable and animal oils, ashes of plants, and some fragrance. The soap-production process was a guarded secret until 1775, when the secrets of the soap industry were first published. But it wasn't until 1884 that soap was sold in individually branded wrappers. These soaps smelled quite pleasant due to added fragrance and soon came to be regarded as a necessity rather than a luxury.

Soaps made prior to the 1940s were much harsher than the soaps we use today, and many caused skin irritation. The soap industry reacted by developing milder cleansing bars, gentler on sensitive skin, in a variety of scents and colors. This step transformed soap from a simple health and cleanliness aid to a cosmetic and skin care staple.

Since the 1950s, skin care has evolved to become a multi-billion dollar global industry, with a wide selection available in local grocery stores and pharmacies, including the most popular:
Bar soap, the oldest and most common type of soap, tends to last longer and provides many advantages, primarily ease of use for the entire body in the shower.
Liquid soap provides unique advantages. Imagine how unsanitary and messy public bathrooms would be if bar soap were the only option! Some liquid soap is available as light-as-air foam and may contain additional moisturizers.
75% of liquid soaps sold in US stores are antibacterial. Increased use of antibacterial soaps, however, contributes to growing antibacterial resistance.
Aromatherapy soaps contain extracts of essential oils, considered to promote a sense of well-being and relaxation, including chamomile, jasmine, and ylang-ylang.
Exfoliating soap gently removes dead layers of skin and can make your skin feel softer.
Do you have a favorite soap or facial cleanser to recommend? Share your skin care favorites with other VisualDxHealth visitors.