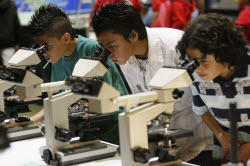 As a med student, shortly after starting your studies, friends, family members, and even patients begin to ask you health questions. I think one of the most exciting things about med school is applying classroom knowledge by teaching it to patients and people who are not in the medical field. 
Insights from Lisa Altieri
Earlier this year, my classmates and I had the chance to do this when we volunteered to help with our class service project: teaching health education to high school students in East LA.  The three-hour curriculum, developed by Max Dean Goldstein, Juan Torres, and Kelly Mooney from UCLA School of Medicine, was a unique way to make careers in health and medicine accessible to high school sophomores from diverse backgrounds.  Students were exposed to the health professions as they learned how to prevent skin cancer, treat acne, perform CPR, conduct a medical interview, and choose nutritious foods.
The dermatology session, created by Juan Torres, was of the many well-received aspects of the curriculum.  It was an interactive session, in which students asked questions about how to clear up acne, use sunscreen, and check for melanoma.  Using images from VisualDx and skinsight.com in Powerpoint presentations is a great way to depict the ABCDEs (asymmetry, border, color, diameter, evolution) of melanoma.  For patients, you might also read more about melanoma here: Skinsight Melanoma.
According to our feedback surveys, 72% of students in the class said that they were more interested in pursuing a career in health after having these lessons. One of the students wrote, "I learned a lot, and I want to keep learning!" Teaching this group of students was a great experience for us, and it was fun to use medical knowledge and visual aids to introduce young students to healthy behaviors and the health professions.
Juan, Kelly, and Max are looking into introducing the program to more schools.  If you would like to start a similar service project at a high school in your community, please email me at laltieri@mednet.ucla.edu and I will put you in contact with Max, Juan, and Kelly.