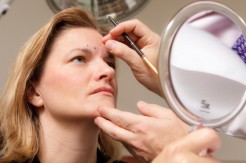 If you are looking for a dermatologist, you may be wondering the best way to go about choosing one. At times, external factors dictate who you choose, whether it is a provider within your insurance network, the dermatologist with the soonest available appointment, or the only provider within a 50-mile radius. Many of us, however, have some flexibility when it comes to choosing a dermatologist.
One of the most tried and true ways of choosing a dermatologist, or any health care provider, is through word of mouth. When someone whose opinion you value and trust has had a positive experience, it is a good indication that you will likely have the same impression. This is often the easiest way to find a dermatologist. Similarly, asking your primary care physician for a recommendation is very helpful. When you see a specialist, it is important that there is good communication between the specialist and your regular doctor, and this is often facilitated when they know each other personally. This is particularly important if you have a chronic skin condition, such as psoriasis, that may require specialized medications and monitoring of blood work.
Perhaps you have already been seeing a dermatologist for an ongoing problem, and your treatment options have been exhausted. Consider asking him or her for a referral for a subspecialist. Many dermatologists, particularly those in academic centers/university hospitals, focus on a certain area of specialty. It can be as limited as specializing in a specific disease, such as urticaria (hives), or as broad as a type of skin disease such as blistering disorders or focused on a certain area of the body, such as scalp and hair conditions. Dermatology is a large and expanding field, with many new treatments being offered for different conditions, many on an experimental basis. Although finding the right subspecialist can be difficult, and the wait times can be extraordinary as well as require a long travel distance, it may be well worth your while to visit a subspecialist when your general dermatologist has exhausted traditional therapeutic measures.