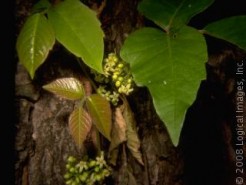 How long does it take for the poison ivy rash to develop?
The amount of time for a rash to appear after the initial point of contact with the poison ivy chemical varies from person to person. The first thing to consider is whether or not you have had poison ivy before and how allergic you may be to it. Someone who has had poison ivy before and is relatively allergic may start to itch and develop a rash within hours. Someone who is exposed to it for the first time may not develop a rash until 2 to 3 weeks after the initial exposure.
Dr. Lowell Goldsmith and Dr. Jeff Bernhard contributed their expertise on behalf of VisualDx for the above information.