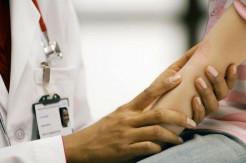 An experimental drug called PLX4032 shrunk advanced melanoma tumors in 81% of patients, according to an early phase study reported in the New England Journal of Medicine. For two patients, the tumors disappeared completely, while in 24 others the tumor shrank by more than 30%. In most cases the shrinkage was temporary, so the goal is for the drug to be combined with other treatments to produce a long-lasting effect. PLX4032 is designed to target tumor cells with a mutation in a gene called BRAF.
Another experimental drug, ipilimumab, is the first therapy shown to extend the life of patients with advanced melanoma: 20% of patients with advanced melanoma were alive two years after treatment with the drug.
To read more, go to http://www.msnbc.msn.com/id/38854884/ns/health-cancer/.