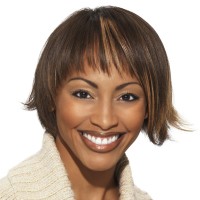 That's right, I said it! This year – this decade – I want you to focus on beauty. Being beautiful means being healthy, and I want you to do everything in your power to make yourself more beautiful. Sound vain, trivial, and superfluous? Well, not really. While I'm not suggesting you get plastic surgery or injectable fillers, Botox®, or laser, I am suggesting that you look at your skin as a reflection of your overall health and that you make smart choices to protect your beautiful skin and take action to make your skin and body healthy.
The truth is, protecting your face and projecting beauty takes an inside-out approach. That means focusing on what you put inside your body – not just what you put on your skin. And this benefits the rest of your body, too! You can actually lose weight, prevent diabetes and heart disease, AND get glowing, refreshed skin by following a healthy diet, getting more exercise, and drinking more water. Find out more about my top superfoods for glowing, ageless skin.
Personally, I don't like resolutions because when we resolve to do something, it usually means we've been coerced or forced to do something against our will. And in that case, our hearts are not in it. I find many of my patients don't stick to weight loss or other "un-fun" health regimens for very long because those types of regimens are boring, self-depriving, and don't offer a fast, visible payoff! But if you focus on beauty – getting a healthy glow to your skin, decreasing fine lines and wrinkles, and radiating a smooth skin tone – you will take care of other body parts, like your heart, kidneys, and brain as well.
As we turn our attention to wellness and prevention, our blog experts have a treasure trove of information for you. People who want to look younger have a confusing array of options, including where to go for cosmetic procedures. A recent post by cosmetic dermatologist and laser specialist Dr. Ramsey Markus enlightens us on what we should all consider when looking for a center for laser treatments.
If you suffer from uneven skin tone with hyperpigmentation, you may consider getting a chemical peel, among other treatments. But be sure you are well aware of the side effects of peels to manage your expectations!
Finally, I will say that giving up smoking, saturated fats, excess sugar, and getting off the couch more are truly worthy "resolutions," so stick to them. Just keep in mind that your body's largest organ – your skin – will benefit, too!
Happy New Year and Healthy New Decade!
Andrea Pennington, MD, C.Ac