Personal account by Kierna Terrisse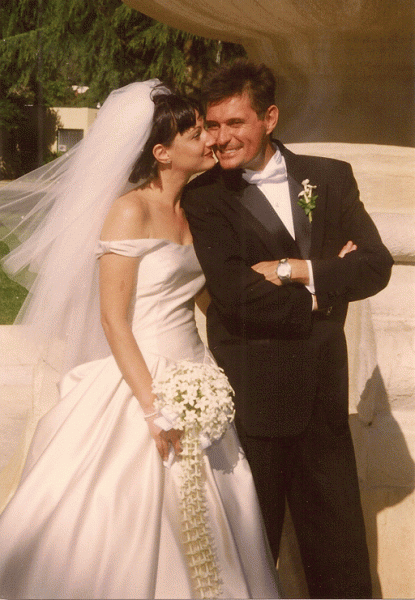 The first time I noticed the mole on my fiancé Eric's upper arm, we were living in New York City. It was only a mole, so we ignored it. Three years later we were celebrating our honeymoon when I noticed the mole appeared more distinct. It looked strange, but still, neither of us gave it much attention. At the time I didn't realize something so simple and harmless looking could kill you. If I knew then what I know now, things might have turned out much differently.
We had just moved from New York to Los Angeles. It was during a conversation with my dermatologist that I learned a mole could be deadly. I relayed the message to Eric who maintained a very casual attitude. He had an olive Mediterranean skin tone that tanned easily. He wasn't concerned.
I persisted and made Eric's appointment. The dermatologist removed the mole immediately. A few days later tests revealed that it was positive for malignant melanoma. The test results came back the same day we were closing escrow on our first house. Everything about that day was supposed to be about the future, yet we were burdened with this awful news that threatened it. Eric wasn't there in mind or spirit. The reality that he could die was hitting him.
We sought help at the John Wayne Cancer Institute and St. John's Hospital. Our newlywed lives revolved around regular X-rays, scans, and blood tests. Eric volunteered to be part of a medical experiment for those diagnosed with melanoma. Every 2 weeks he received antibiotic injections in his lymph nodes. The injections caused chronic discomfort, but he was willing to do anything that offered hope.
As the months went by we grew increasingly optimistic the melanoma had been successfully removed. We learned if you can get through the first 2 years after a diagnosis, then the odds were in your favor for staying in the clear. We were just one month away from this two-year anniversary. I was pregnant. Life was feeling good. I had no fear.
Then came the day I'll never forget. Eric went for one last chest X-ray. I came home from work and found him sitting in our living room with the X-ray film spread at his feet. He was staring, unmoving, at an image that revealed a golf ball-sized tumor on his left lung. "I have something to tell you," he said.
Our worst nightmare had come true. Eric's malignant melanoma had metastasized. He had one lung removed, required ICU care, and died 4 weeks later.
I was 31 years old, 5 months pregnant, and widowed. This happened 10 years ago and I can honestly say there is not one aspect of my life that has escaped being affected by melanoma. Where I live, what I do, even my career has been affected by Eric's cancer.
I spent a lot of time seeking answers. Eric was French and had Mediterranean skin. But he grew up in South Africa under an intense sun and never wore sunscreen. Growing up in a hot climate gave him a love for the sun. When we lived in New York City, we spent every vacation going to tropical retreats where we'd lay on the beach and sunbathe all day.
Now I know his past put him at risk for skin cancer. Had we known about the relationship between early childhood sunburns and cancer, we'd have treated the mole when we first saw it while living in New York City.
I've been able to find a positive use from my experience. For me, every moment of every day is appreciated. Each soaring bird, every friend…even standing in line at the grocery store is a special moment. I'm always encouraging my friends to see a dermatologist and get their moles checked. I'm still surprised by how many people still shrug off the possibility of skin cancer as something that doesn't merit their attention. But I know my story has helped people. Numerous times I've had friends and acquaintance tell me that my story motivated them or one of their loved ones to get a skin check that resulted in finding an early stage of skin cancer.
I hope it does the same for you.