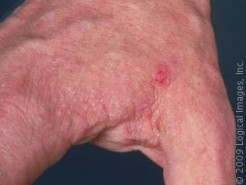 Q: How can I prevent scabies?

The only way to prevent scabies is to avoid contact with any persons who are infected with scabies. If you suspect a rash on your body may be scabies, see a physician who can identify the clinical pattern of scabies. A physician may attempt to scrape off the mite and look at it through a microscope to make a definite diagnosis. There is no blood test for scabies. Some drugs and medicines can also make people more susceptible to scabies.

Dr. Lowell Goldsmith and Dr. Jeff Bernhard contributed their expertise on behalf of VisualDx for the above information.