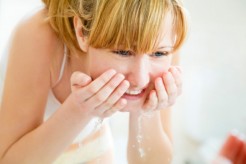 Q: I feel like I am looking older and have never done anything about it. Do I have to use expensive products to improve the appearance of my skin? Where do I start?
A: Aging skin, or "looking old," is the result of two distinct causes – intrinsic and extrinsic conditions. Intrinsic aging is the natural aging process that begins in our mid-20s.
Extrinsic aging is caused by external factors, such as overexposure to the sun's rays. These factors act together and can prematurely age the skin, especially if you smoke. Aside from stopping smoking, a consistent skin care routine is the best antidote to "looking old," and it's never too late to start. If you've "never done anything," your skin will respond beautifully to a twice-a-day regimen based on your skin type (normal, combination, dry, oily, mature) that includes three basic steps – cleanse, moisturize, and protect. There are many good skin care products to choose from, and even inexpensive "drug store brands" can be effective. The key is to get started now!
Cleanse. A clean face is a happy face. Never go to bed with makeup on! Choose a cleansing product suitable for your skin type, and use it morning and night. If you wear makeup during the day, you might start your cleansing routine with a packaged cleansing towelette designed to remove eye makeup and foundation. Then, splash your face with warm water and apply a gentle alcohol-free cleanser. Avoid using bar soaps (unless specifically designed for facial cleansing), as soap can irritate and dry facial skin. Rinse well with warm (never hot) water, and pat nearly dry with a soft towel.
Moisturize. Apply moisturizer immediately after cleansing. Everyone needs to moisturize facial skin, no matter what your skin type. Moisturizers seal moisture into the skin, keeping it supple and soft. You can feel the difference immediately. Many lighter daytime moisturizers or lotions include sunscreen. Nighttime moisturizers are richer and thicker in texture, to provide more intense moisture while you rest.
Protect. Using sunscreen every day is the most important part of your skin care regimen! If your daytime moisturizer doesn't include sunscreen, use a foundation that does. You may want to use a special eye cream to protect the delicate skin around the eyes, which is thinner and more prone to wrinkles. At night, do not use products with sunscreen; your skin needs a rest from ingredients, and they are not meant to be used 24 x 7.
With a consistent twice-daily skin care routine, you should see results quickly – softer, smoother skin that looks vibrant and healthy. Over time, you may want to experiment with other products such as toners and serums designed to supplement your basic care. But never underestimate the value of daily three-step attention!