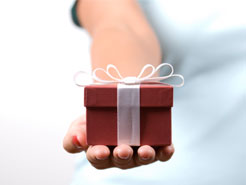 Turning 30 has made me look at beauty a little differently, especially living in Los Angeles. I hear the stories of women 25 year old getting "preventative" Botox and I think to myself how silly is that. But then I reflect about it and it doesn't sound like such a bad idea.  Why not try to capture this youthfulness for as long as possible.
While pampering myself with a facial as a birthday gift to myself, the facialist commented on the …uh…."crepiness" under my eyes. I don't know if she was trying to sell a product or not; I'm going with the former, but after this experience I rushed to my medicine cabinet to see what creams I could put under my eyes and behold a 5 year+ eye serum that I got as a sample in a department store.  With this, I ask the age-old question, "Do eye creams really work, especially for crepiness, dark circles, and the like?"
 
In my quest to find the answer, I looked through many medical articles and journals to see if there was any validity to using eye creams.  Although I found limited articles about eye creams, especially evidence about their effectiveness, I did find some in medical journals that were appealing.
Of the research I did and the articles I read, I end with the conclusion that eye creams are not necessary:
Sunscreen: The most important prevention or intervention to looking youthful is sunscreen! Sunscreens that contain zinc oxide or titanium oxide essentially block the sun.  And even though we are quickly approaching winter, sunscreen is still very important.  Over time, when we expose ourselves to too much sun there can be a loss of elastin and collagen in our skin.  Collagen and elastin are the proteins found in the skin that keep our skin supple.
 
Drug Store Brands: If you do decide to use an eye cream, expensive is not always better.  In several articles I read, an overwhelming majority said larger companies like "Neutrogena" and "Aveeno" are more likely to do extensive research on their products, including eye creams, than the smaller and more expensive eye cream companies. Also the products from the large companies are more likely to contain fewer irritants.  So if eye cream is a "must" for you, go with the ones in the drugstores and not the department stores.
 
Vaseline: Interestingly, Vaseline was mentioned as being a good agent to remove make up with and the excess could be used as a moisturizer for the eyes.  The main reason why wrinkles and fine lines arise under the eyes, face, and body is because of excess sun exposure and washing the face and body too much, which can lead to a reduction in the skin's natural oils and moisture.  When in doubt, moisturize; your body will thank you later.
 
Retinoid:  The only known topical cream that has been proven to reduce or prevent wrinkles and fine lines is retinoids. Retinoids actually work by penetrating the skin and partially restoring collagen supplies.  Your family practitioner or dermatologist can prescribe topical retinoids.
So what can this blog be reduced to?  Wear sunscreen everyday; use Vaseline as a makeup remover/eye moisturizer, buy drug store moisturizers, and retinoids are the key to the "Fountain of Youth".
References:
1. Neill U. Skin Care in the aging female: myths and truths. Journal of Clinical Investigation. 2012 Feb 1; 122(2): 473-477. http://www.ncbi.nlm.nih.gov/pmc/articles/PMC3266803/
2. Krieg T, Aumailley M, Koch M, Chu M, Uitto J. Chapter 63. Collagens, Elastic Fibers, and Other Extracellular Matrix Proteins of the Dermis. In: Wolff K, ed.Fitzpatrick's Dermatology in General Medicine. 8th ed. New York: McGraw-Hill; 2012. http://www.accessmedicine.com/content.aspx?aID=56039266.
3. Chien AL, Voorhees JJ, Kang S. Chapter 217. Topical Retinoids. In: Wolff K, ed.Fitzpatrick's Dermatology in General Medicine. 8th ed. New York: McGraw-Hill; 2012. http://www.accessmedicine.com/content.aspx?aID=56096963/