What could a bull's-eye rash be?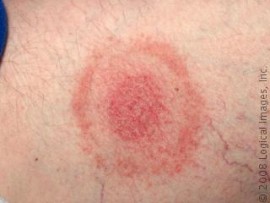 The classic bull's-eye rash has commonly been associated with Lyme disease. This rash can be very large in area, from 4 to 6 inches in diameter. Similar lesions may be associated with a viral infection of the lungs, which may be triggered by a herpes simplex infection.
Dr. Lowell Goldsmith and Dr. Jeff Bernhard contributed their expertise on behalf of VisualDx for the above information.