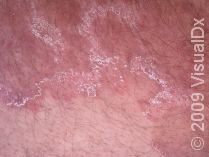 Where on the body is the most common place to get ringworm?
Ringworm can occur on almost any part of the body. The scalp is a common location for ringworm, where it may appear as areas of broken off hair and areas of fine scaling. Ringworm can often be found in the creases of the groin area, although regular ringworm does not usually occur on the scrotum. When ringworm occurs on the feet, it is called athlete's foot and is often between the toes and on the bottoms of feet.
Dr. Lowell Goldsmith and Dr. Jeff Bernhard contributed their expertise on behalf of VisualDx for the above information.